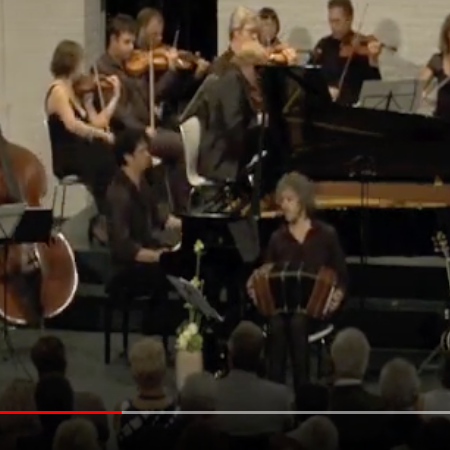 Viajes
Violin, piano, guitars (electric - acoustic), bandoneon, bass, percussions, strings. Composed in 2010. Commissioned by the Orchestre Royal de Chambre de Wallonie. Unpublished. Duration: 38m.
Travels are particularly significant in my life as a man and as an artist. Discovery, halts, involvement, and other analogies abound in both travel sensations and life experience, speaking to my mind as intertwined symbols. This is what Viajes is about, thru three successive parts: 'Paisajes' exposes largely the original thematic material, followed by 'Danzas y fiestas', central section dedicated to structural embodiments and metamorphosis. 'Caminos de libertad' ends the piece, vanishing in a peaceful and aerial conclusion.
I switched undefinely between arrangements - Dino Saluzzi, Ernesto Nazareth, Hermeto Pascoal, Alberto Iglesias, Emmanuel Comté, Egberto Gismonti - and original composition in Viajes, one of my numerous collaborations with the belgian tango quintet Soledad. Viajes was premiered on September 11, 2010 by Soledad, Michel Seba and the Orchestre Royal de Chambre de Wallonie at the Grand Hornu site, Belgium.