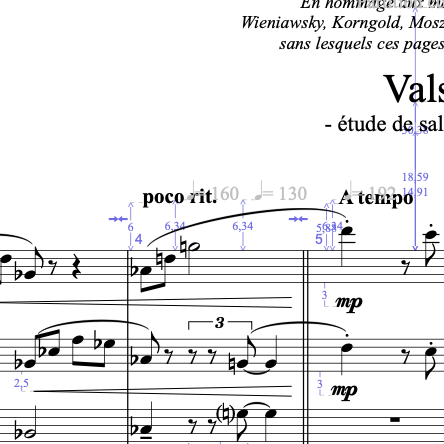 Valse - étude de salon en ut
2 flutes, 2 oboes, 2 clarinets in Bb, 2 bassoons, 4 french horns, 3 trumpets in C, 2 trombones, bass trombone, tuba, timpani, snare drum, bass drum, suspended cymbal, cymbals (pair), tambourine, glockenspiel, harp, celesta, strings. Written in 2020. Original piano version written in 20..(?). Unpublished. Duration : 5m 30s.
I have always been receptive to the so-called decadent music, which explores the limits of the tonal context and its formal justifications, and which symbolizes the announced death of a certain mode of Western civilization, already replaced by the emerging twentieth century and its cultural revival. These musics, even through their most cheerful pages, always conceal a perfume of nostalgia, a fatalistic and touching nevermore-feel. I had great pleasure in composing this piece, a respectful homage to the twilight of Viennese Romanticism, to Wieniawsky, Korngold, Moszkowsky and so many other.
Although this composition was originally written for solo piano, it was my intention from the outset to make an orchestral version. Many years later, taking advantage of the professional freeze of the breakdown due to the Covid-19, I finally found the time to accomplish my wish.