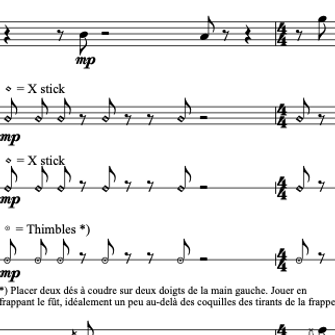 Quintessences
4 timpani, 2 suspended cymbals, tam-tam, snare drum, bass drum, 3 temple blocks, 4 melodic toms, floor tom, 2 bongos, 2 congas, xylophone, marimba, vibraphone, glockenspiel, crotales. Written and recorded in 2020. Percussion section (5 players) of the Liège Royal Philharmonic. Commissioned by the Liège Royal Philharmonic. Unpublished. Duration: 8m.
Each of the four movements of Quintessences uses a different category of instruments: metallophones for 'Au gré des ondes', mallets for 'Tribales', membranophones for 'Solkattu', and tutti for 'Morlocks'. These different timbral polarities generate specific, evocative universes, brought together as a series of journeys in time and space.
Quintessences was commissioned by the Liège Royal Philharmonic, for the commemoration of the sixtieth anniversary of the orchestra. Originally scheduled for October 8 at the Salle Philharmonique de Liège, the premiere is postponed to a later date due to a case of COVID-19 among the musicians.